Description :
Turmeric Powder/ Haldi is said to be the mother of all spices has been used for centuries. Got a sore throat or cough - nothing like spoonful of turmeric with honey. Turmeric powder is used to flavour and to colour foodstuffs. It is a principal ingredient in curry powder.
Important Note :
Usually delivered in 5 - 7 business days. Delivery available all over India and fast delivery for metro cities like Chennai, Bangalore, Hyderabad, Mumbai, Delhi, Gurgaon.
Usage & Benefits :
Turmeric is used in the preparation of medicinal oils, ointments and poultice. Haldi powder also used in cosmetics. Some people apply turmeric to the skin for pain, ringworm, sprains and swellings, bruising, leech bites, eye infections, acne, inflammatory skin conditions and skin sores, soreness inside of the mouth, infected wounds, and gum disease.
How We Differ From Others :
Turmeric finger is grown organically from our farms and after harvest it is dried, powdered and packed directly without any preservatives or chemicals. We cut any middleman intervention by directly supplying from farm to home and thus ensure the natural quality. Salem Turmeric has it special essence in the market and known for many years.
About Turmeric Powder
Turmeric Powder Specifications:
| | |
| --- | --- |
| Product Name | Turmeric Powder |
| Quantity | 500gms / 1kg |
| Ingredient Type | Vegetarian |
| Shelf Life | 6 Months |
| Place of Origin | Salem, TamilNadu, India |
| Storage Instructions | Store in dry places. Don't refrigerate |
| Organic | Yes |
| Preservatives Added | No |
| SKU | TURM02 |
| Local Names | Salem Turmeric Powder, Salem Haldi, Erode Manjal, Salem Manjal |
| Customer Feedback | View Reviews |
Regional Names of Turmeric Powder:
| | |
| --- | --- |
| Tamil | மஞ்சள் தூள் (Manjal Thool) |
| Kannada | ಅರಿಶಿನ ಪುಡಿ (Arisina Pudi) |
| Telugu | పసుపు పొడి (Pasupu Podi) |
| Malayalam | മഞ്ഞൾ പൊടി (Mannal Peati) |
| Hindi | हल्दी (Haldi) |
Turmeric Powder Preparation:
Salem and Erode turmeric is known for its purity, fragrance and medicinal properties. It has its huge demand all over India and majorly used for exporting to other countries. Salemmango brings you the different stages of seeding to preparation of raw turmeric powder which are grown in our own farms organically without using pesticides or any chemical alternatives.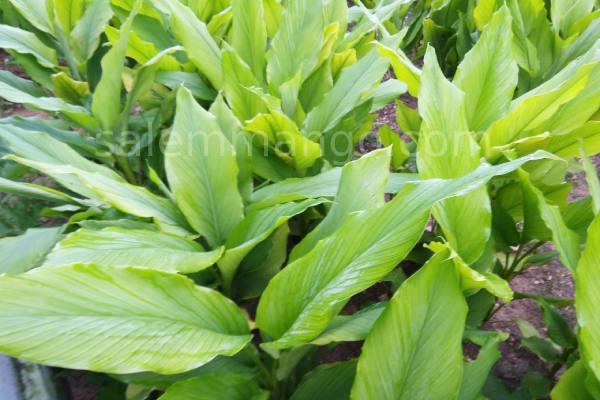 Turmeric finger are of two types Turmeric finger and Turmeric bulb. As the name implies turmeric finger is of finger like shaped which is lengthy and mainly used for turmeric powder preparation.
Turmeric plant is grown by seeding the gundu Manjal also known as Turmeric bulb. Turmeric bulb is mainly used for seeding the next monsoon turmeric crops.
From the date of seeding the turmeric crop takes around 5 to 7 months to grow.Turmeric fingers are grown under the soil.
The Raw Turmeric which is matured are harvested and allowed to dry for few days.
The raw turmeric without drying can be crushed and used to apply for face which is called kasturi Manjal.
The raw turmeric is boiled at high temperatures and made to dry for at least 10 days.
The dried turmeric is then polished to remove the outer shell, attached roots which goes as waste and that again can be used as manure for organic farming.
This polished turmeric is exported to other countries or being sold as turmeric fingers in local markets.
The polished turmeric is grinded to produce turmeric powder which is ready for packing and shipping on order basis.
The Turmeric powder obtained naturally is shipped without adding any ingredients or other substances.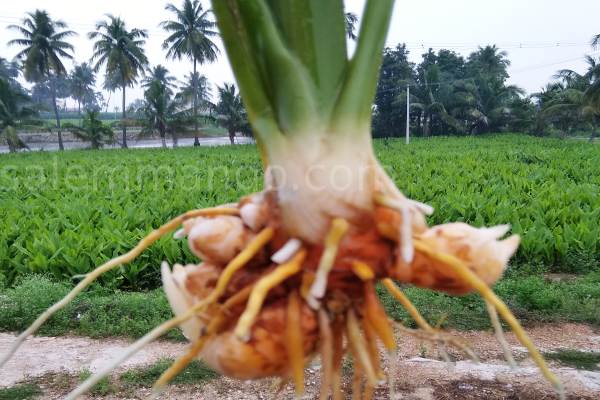 How can I use this Turmeric Powder?
Turmeric powder has vast health benefits which even led foreign nations to patent the rights, but India challenged and won the patent rights for Turmeric powder.
Turmeric powder is used as spices in food ingredients since ancient times.
Turmeric has Curcumin compound, which is rich in Salem Turmerics, is used as an anti-inflammatory and anti-bacterial agent.
Turmeric powder is used as medicine for body wounds, Cancer & heart problems and this is one of the main reason for foreign countries importing Indian turmerics.
Raw turmeric after grinding is used as a face and body mask for ladies which keeps the skin glow and avoid growth of unnecessary hairs over face.
Turmeric powder when mixed with Non-veg items like chicken, mutton, fish while washing removes bacterial agents and extends shelf life.