Description :
Totapuri Mango has a parrot beak like tip and hence the name derived as Kilimooku. It is a special variety grown across Southern states. Totapuri is also known as Kallamai, Collector, Kalamani across various regions. Kilimooku mangoes on ripening turns yellow with thick skin and yellowish orange pulp inside. Each piece weighs around 250 to 500 gms. It is the only mango that can be eaten in unripe greeny stages by slicing and pouring salt with chilli powder.
Important Note :
The mangoes will be sent in raw matured, semi ripe condition to avoid damages in transit. While ripening it will loose 100-200gms of weight per kg.
Usually delivered in 5 - 7 business days. Delivery available all over India and fast delivery for metro cities like Chennai, Bangalore, Hyderabad, Mumbai, Delhi, Gurgaon.
About Kilimooku / Totapuri Mango
Kilimooku / Totapuri Mango Specifications:
| | |
| --- | --- |
| Product Name | Totapuri Mango |
| Quantity | 1kg / 3kgs / 5kgs |
| Shelf Life | 2-4 days after ripening |
| Place of Origin | Salem, TamilNadu, India |
| Storage Instructions | Store in a cool & dry place. Don't refrigerate before ripening |
| Organic | Yes |
| SKU | BGL01 |
| Local Names | Kilimooku, Kili Mooku, Bangalora, Kallamai, Collector |
| Ripening Process | Natural |
| Ripening Guidelines | Leave the mangoes inside hay with boxes closed tightly. It will ripen slowly in 2-5 days |
| Customer Feedback | View Reviews |
Regional Names of Kilimooku / Totapuri Mango:
| | |
| --- | --- |
| Tamil | கிளிமூக்கு (Kilimooku) |
| Hindi | तोतापुरी आम (Totapuri Aam) |
TOTAPURI MANGO ORCHARD:
Mangoes are primarily a summer fruit and famously known as king of fruits. But there's a misconception that eating mangoes will create blister and heat wounds in summer. Yes that will happen if one eat mangoes ripened with carbide or chemical sprays. We at salemmango provide naturally ripened fresh mangoes to end customers which actually cools body temperature.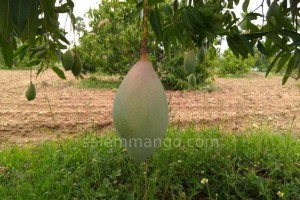 Totapuri mangoes are the commonly grown variety across South India and it accounts to 50% of overall mango production in India. Bangalora mango saplings and trees can be grown in drought places as it can grow with less water and provide maximum fruits. Hence it's cultivated in most of the places.
Totapuri saplings normally take 3 to 4 years to start flowering and to bear the fruits. The trees has to be pruned properly so that sunlight falls on the stem. Totapuri is the only mango that can yield both in season (April-June) and off season (November-December) depends upon the climatic conditions of the year.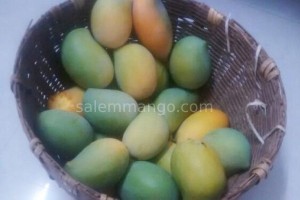 Totapuri variety is considered to be cheap variety in markets as it can be used for pickling, pulp and also for fruit consumption. Bangalora mango trees will yeild more than any varieties of same age and the yield would be around 100 to 150 mangoes for six to eight years old tree.
Matured mangoes can be identified by the mangoes which turns pinkish in color and on pressing gently will become soft. The mangoes are then packed directly in hay box and shipped to respective address which avoids any kind of storage or middleman intervention. The only person to touch the mangoes until packing will be a farmer which guarentees the mango authenticity and organic taste.
HOW TO FIND THE TOTAPURI MANGOES ARE RIPEN?:
The totapuri mangoes will ripe one by one and ripening duration will vary from 4 to 10 days. The ripen mangoes look with a combination of pink and deep yellowish color. A fully ripened totapuri mango turns completely yellow and produce a strong aroma. Generally this variety takes more time to ripe than other premium variety of mangoes.
Sometimes all the mangoes won't turn yellow and color of mangoes are not always the best indicator of fruit stage. It's a best way to gently squeeze the mango. If the mango is hard on squeezing it is not ready for consumption. Don't press too hard as it will damage the pulp inside and will be spoiled after ripening.