Description :
Palm Jaggery also known as Karupatti is a healthy traditional product made from palm juice (Pathani) without using any chemicals. Palm Jaggery is an excellent source of iron and minerals. Salemmango takes atmost care in delivering right organic palm jaggery to its customers.
Important Note :
Net Weight: 950 gms per kg. Each piece weighs around 350 -500 gms. 2 to 3 pieces will make a kg.
Usually delivered in 5 - 7 business days. Delivery might be delayed due to restrictions of emergency lockdown. Delivery available in Tamil Nadu and all over India.
Usage & Benefits :
Palm Jaggery can be used as a ingredient in desserts and drinks. It has rich source of minerals, high nutrients, acts as an energy booster ans relieves common medical ailments.
How We Differ From Others :
Palm Jaggery is extracted using traditional techniques of boiling the palm juice and accumulating the sugar without any machineries. It is prepared by regular palm tree climbers who does it as a family job and cuts any middleman intervention.
About Palm Jaggery
Palm Jaggery Specifications:
| | |
| --- | --- |
| Product Name | Palm Jagggery |
| Quantity | 1kg |
| Ingredient Type | Vegetarian |
| Shelf Life | 6 Months |
| Place of Origin | Salem, TamilNadu, India |
| Storage Instructions | Store in dry places. Don't refrigerate |
| Organic | Yes |
| Preservatives Added | No |
| SKU | PALMJAG01 |
| Local Names | Karupatti, Organic Palm Jaggery, Black Jaggery, Panai Vellam |
| Customer Feedback | View Reviews |
Regional Names of Palm Jaggery:
| | |
| --- | --- |
| Tamil | பனை வெல்லம் (Panai Vellam) |
| Kannada | ತಾಳೆ ಬೆಲ್ಲ (Tale Bella) |
| Telugu | తాటి బెల్లం (Tatti Bellam) |
| Malayalam | കരിപെട്ടി (Karipetti) |
| Hindi | हथेली का गुड़ (Hathelee Ka Gud) |
Palm Jaggery Preparation:
Salemmango aims at delivering highly quality food items which are prepared in old fashioned techniques. We follow the traditional process which our parents, grandparents taught us. We bring you the manufacturing process of Palm Jaggery as we are the producer, manufacturer, seller of end to end raw materials of preparing Palm Jaggery by cutting any middleman intervention.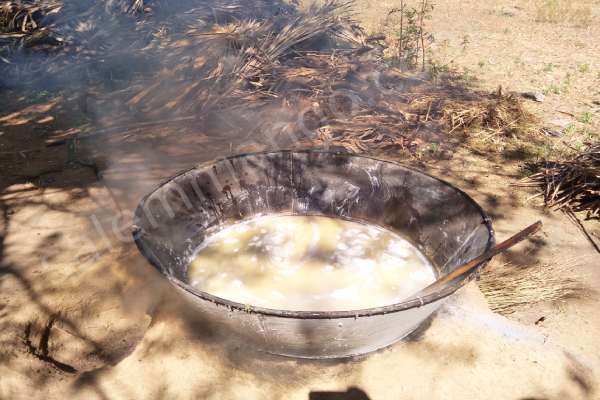 Extracting Palm jaggery is a way traditional method that has been in practice for more than 1000 Years.
Palm jaggery is extracted from Palm juice (Pathani) produced by Palm tree twice in a year.
There are male and female palm trees, out of that only female tree yields the palm juice. A well grown palm tree will produce 200 to 1000 litres of palm juice per year.
Palm juice is extracted twice in a day and collected in a big barrel.
There are two ways of extracting palm juice. One way is getting it in raw nature which is known as kallu or Theluvu.
Theluvu is mainly used for human consumption and not used to prepare Jaggery.
The other way is limestone applied palm Juice which is called Sunnambu Theluvu aka Pathani. It will be sweet in nature and given to kids as energy drinks.
This Pathani is used to prepare jaggery. The shelf life of the palm juice is not more than one day.
The collected Palm juice will be heated in a barrel until it sediments the sugar and evaporates the water.
This process will be continued until sugar reaches semi solid state.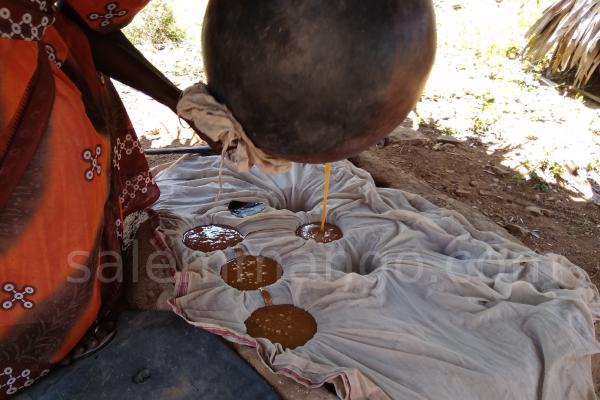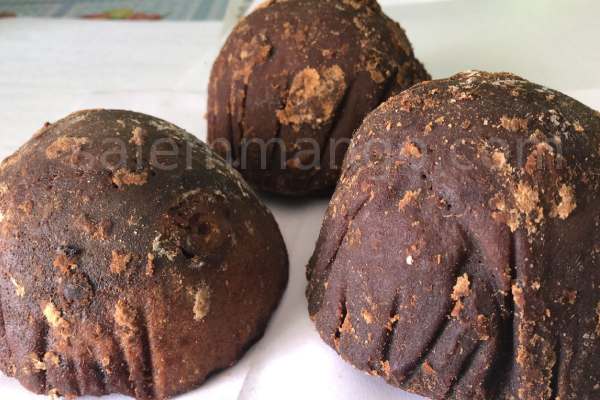 The semi solid jaggery will be poured in old fashioned pot which gives the shape of palm jaggery.
This is one kind of traditional practice that's been followed till date.
After few hours it attains the complete solid state of palm jaggery which will be taken back for shipment.
All the preparation works are done by the farmers and there is no other person involved in between which makes the Salemmango Palm Jaggery a special one and 100% pure.
How can I use this Palm Jaggery?
Many of us would be wondering, how should I use this palm Jaggery and what's the necessity of using it. We have listed down the ways of using palm jaggery in day to day life.
In olden days Palm Jaggery is used to prepare coffee & tea as an alternative of white sugar.
It is rich in minerals and nutrients and can be added in milk and given to kids as an energy booster.
Palm jaggery can be eaten raw, or along with coconut piece which gives wonderful taste which most of us would have never done before.
Karupatti is best alternative to use for diabetics which most of the doctors prescribe.