Description :
Naatu Sakkarai also known as Organic Country sugar or Organic Brown sugar, from Salemmango farms is extracted from raw sugarcane without applying any chemicals or addictives. Organic country sugar preserves all the original vitamins and minerals.
Important Note :
Net Weight: 950 gms per kg
Usually delivered in 5 - 7 business days. Delivery might be delayed due to restrictions of emergency lockdown. Delivery available in Tamil Nadu and all over India.
Usage & Benefits :
Few benefits are it cleanses our body, acts as digestive agent, and used as a face scrub alongside wild raw honey. Replacing sugar with jaggery cuts the bad effects of sugar. It helps in digestion, is a rich source of iron and antioxidants and aids in weight loss as it replaces the empty calories from sugar. Switch from refined white sugar to organic country sugar.
How We Differ From Others :
Our Nattu Sakkarai is prepared naturally by using traditional method of crushing sugarcanes grown organically. Unlike others, it is prepared and packed directly by farmers and supplied to consumers which cuts any middleman intervention which in turn prevents any adulterants or storage.
About Jaggery Powder
Jaggery Powder Specifications:
| | |
| --- | --- |
| Product Name | Jaggery Powder |
| Quantity | 1kg / 3kgs / 5kgs |
| Ingredient Type | Vegetarian |
| Shelf Life | 6 Months |
| Place of Origin | Salem, TamilNadu, India |
| Storage Instructions | Store in dry places. Don't refrigerate |
| Organic | Yes |
| Preservatives Added | No |
| SKU | NATSAK01 |
| Local Names | Organic Country Sugar, Karumbu Sakkarai, Nattu Sakkarai |
| Customer Feedback | View Reviews |
Regional Names of Jaggery Powder:
| | |
| --- | --- |
| Tamil | நாட்டு சக்கரை (Naatu Sakkarai) |
| Kannada | ಸಾವಯವ ಸಕ್ಕರೆ (Savayava Sakkare) |
| Telugu | చెరకు చక్కెర (Ceraku Cakkera) |
| Malayalam | കരിമ്പ് പഞ്ചസാര (Karimp Pancasara) |
| Hindi | गन्ना चीनी (Ganna cheenee) |
Jaggery Powder Preparation:
Salemmango is committed to deliver healthy food items which are prepared in natural way without using any chemicals. We follow the traditional process which our parents, grandparents taught us. We give a brief about the manufacturing process of Nattu Sakkarai as we are the producer, manufacturer, seller of end to end raw materials of preparing Jaggery Powder by cutting any middleman intervention.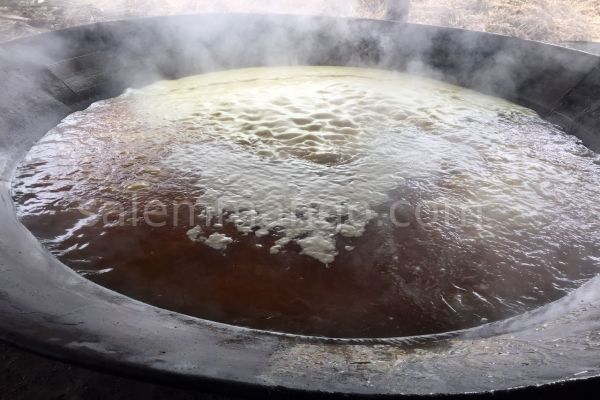 Jaggery powder is a natural sweetener prepared from sugar cane that are grown in our farms. There are two types of sugarcane farms.
One is the black sugarcane that is used for human consumption that we are seeing during Pongal and Pooja festivals. This variety is not commonly used for preparing cane sugar.
The other one is white sugar cane that will grow up to 12 feets. This is the commonly used variety to prepare Cane sugar.
White Sugarcane is also used to make sugarcane juice in roadside shops.
Sugarcane will be cut into pieces by removing the leaves and taken to the processing place.
They are fed into crushing machine where the juice will be extracted.
The extracted sugarcane juice will be filtered to remove any dust particles and it will be directly stored in a big barrel.
The vessel with sugarcane juice will be heated under high temperature until sugar gets sedimented and the water evaporates.
This process will be continued until sugar reaches semi solid state.
The heating process will be monitored regularly and when the sugar reaches semi solid state the process will be stopped.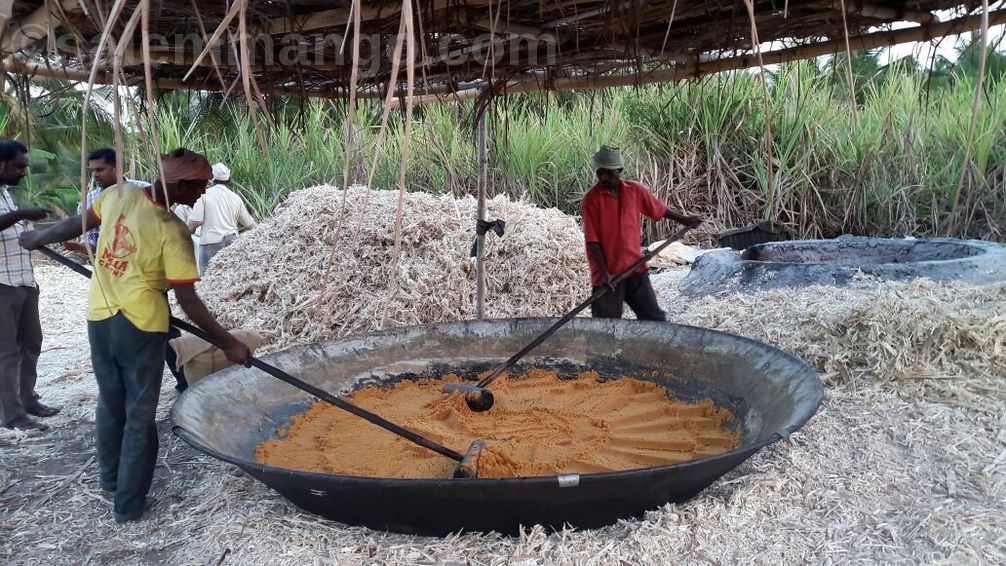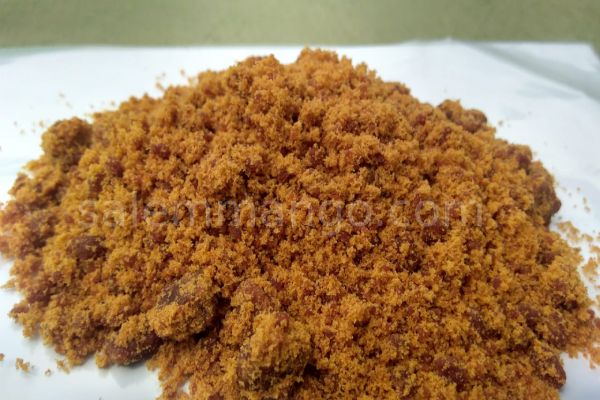 Semi solid state sugar will be left over for sometime until the temperature decreases.
It will then be crushed and rubbed into fine sugar particles. The process continues until the sugar reaches powder format
The obtained sugar is left for few days to become dry.
Finally the Jaggery Powder is now ready for shipment and there is no chemical or machinery process involved in the preparation.
All the preparation works are done by the farmers and there is no other person involved in between which makes the Salemmango Jaggery Powder a special one and 100% pure.
How can I use this Nattu Sakkarai?
This is a common question asked in many forums as we get to see white sugar in most of the places, and how one should use this Jaggery powder. We have listed down the ways of using Jaggery Powder in day to day life.
Nattu sakkarai is a complete alternative and replacement of white sugar. Infact white sugar is prepared from this jaggery powder by adding cheap chemicals which is harmful on consumption.
It is used to prepare tea, coffee, sweets, juice and wherever sugar is needed it can be added.
Nattu sakkarai is used to prepare chocolates, especially Kadalai Mittai, Pulippu Mittai.
It is the only source of sugar in olden ages before the introduction of white sugar.
Organic Jaggery Powder is best alternative to use for diabetics which most of the doctors prescribe instead of white sugar.