Description :
Kolumichai also known as Kaffir Lime (Citron fruit) is one of the citrus fruit native to tropical Asia. Famous as a refreshing drink bearing its name, lemon slices or wedges are often added to cold and hot tea for an extra punch of vitamin C. The juice and rinds of the peel are used in traditional medicine. Fresh Kaffir Limes are grown organically in our farms.
Important Note :
For Pickle purpose only. One kg contains 10 to 15 pieces.
Usually delivered in 5 - 7 business days. Delivery available all over India and fast delivery for metro cities like Chennai, Bangalore, Hyderabad, Mumbai, Delhi, Gurgaon.
About Kolumichai / Kaffir Lime / Salem Narthangai
Kolumichai / Kaffir Lime / Salem Narthangai Specifications:
| | |
| --- | --- |
| Product Name | Kolumichai |
| Quantity | 1kg |
| Shelf Life | 3-5 days |
| Place of Origin | Salem, TamilNadu, India |
| Organic | Yes |
| SKU | LMN02 |
| Local Names | Kolumichai, Salem Narthangai, Citron fruits |
| Customer Feedback | View Reviews |
Regional Names of Kolumichai / Kaffir Lime / Salem Narthangai:
| | |
| --- | --- |
| Tamil | கொழுமிச்சை, நார்த்தங்காய் |
NARTHANGAI DESCRIPTION:
Narthangai is a less known fruit, yet having powerful health benefits. It is rarely available as the benefits become unknown to many of us and this citron variety is becoming extinct.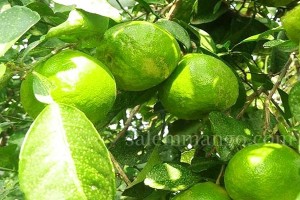 Narthangai is the first citron variety of fruits that was in existence for the past 4000 years. The rest of the citron varieties like orange, lemon, Saathukudi are grown later. This tree has thorns all over the stem and it's hard to climb.
It is mostly grown in alluvial or red soil and a tree can produce 200 to 300 fruits at a time based on the age of tree. Kolumichai fruit will be of big size and 7 to 10 pieces comprises a kg of fruit. The unripen fruits will be of green in color looking in bubble circled shape from outside.
The fully ripened fruit will turn yellowish and on concumption gives sweet tatse. It can be consumed in semi ripen stage where it tastes like a combination of sweet and sour taste. The outer peel will be of thick in nature and while peeling the fruit it produces an oil spray and this oil spray has lot of health benefits. The fruit can be cut in top to bottom angle i.e vertically for consuming it directly or sliced vertically into two pieces to prepare narthangai juice.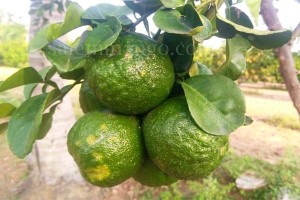 #6 HEALTH BENEFITS & REASONS TO BUY NARTHANGAI FRUITS ONLINE FROM SALEMMANGO:
Narthangai has rich health benefits as the oil spray from the outer peel cures any knee joint pains, hip pains, head ache. It is commonly termed as analgesic.
Narthangai is used to prepare juices or can be consumed raw like oranges as it is more healthy.
Narthangai is used to treat fevers, prevent cancer, reduces cholestrol, reduces blood pressure, increases immunity for children.
Narthangai outer peel spray acts as mosquito repellants.
We pluck the fruits from trees only when you book the order. Hence there is no storage, and the fruits are shipped in farm fresh condition.
All the fruits are grown organically without any chemical pesticides and ripen naturally.