Description :
Imam Pasand / Himayat Mango has excellent sweet aroma, sweet in taste and abundant juicy. Himayath mango is a commercial variety of Andhra Pradesh and Tamil Nadu. It is the only mango that has thin outer skin, thin seed and abundant pulp inside. People all over India really love the mangoes and anyone who tastes the mango can never stop ordering. Imam Pasand is famously known as the King of Mangoes in Trichy.
Important Note :
The mangoes will be sent in raw matured and semi ripe condition so as to avoid damage in transit, while ripening it will loose 100-200 gms of weight per kg.
Usually delivered in 5 - 7 business days. Delivery available all over India and fast delivery for metro cities like Chennai, Bangalore, Hyderabad, Mumbai, Delhi, Gurgaon.
How We Differ From Others :
These mangoes will be plucked from trees once we receive the order and packed with hay for ripening process. There is absolutely no storage or carbide ripening techniques. Salemmango uses organic manure to cultivate mangoes. It is packed directly by farmers to avoid chemical processing and middleman intervention
About Imam Pasand / Himayath Mango
Imam Pasand / Himayath Mango Specifications:
| | |
| --- | --- |
| Product Name | Imam Pasand Mango |
| Quantity | 1kg / 3kgs / 5kgs |
| Shelf Life | 1-3 days after ripening |
| Place of Origin | Salem, TamilNadu, India |
| Storage Instructions | Store in a cool & dry place. Don't refrigerate before ripening |
| Organic | Yes |
| Ripening Process | Natural |
| SKU | IMP01 |
| Local Names | Imam Pasand, Himayat, Hima Pasand, Himayath, Salem Imam Pasand |
| Ripening Guidelines | Leave the mangoes inside hay by closing the box tightly. It will ripen gradually in 2-5 days |
| Customer Feedback | View Reviews |
Regional Names of Imam Pasand / Himayath Mango:
| | |
| --- | --- |
| Tamil | இமாம் பசந்த் (Imam Pasand) |
| Hindi | हिमायत आम (Himayat Aam) |
HIMAYAT MANGO ORCHARD:
It is believed that the name Himayat is derived fom Mughal emperor Humayun while ruling Hyderabad and nearby places this mango variety have been introduced. Imam pasand is still the favourite variety among Hyderabad, Andhra pradesh and Tamil Nadu whereas it's new for northern regions. But once people start ordering the mangoes can never stop as this is one of the tastiest mango from Salemmango farms.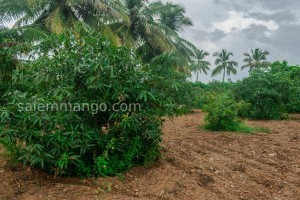 Imam Pasand mango saplings takes around 3 to 4 years to grow and blossom to produce the fruits. Red and alluvial soil are the best for these mangoes to grow. Mango experts can easily identify himayat trees as the leaves will be dark green sharp and lengthy. Imam trees give less fruit compared to other mango varieties, but the size of the mangoes are large than any other mangoes. Imam Pasand is also known as King of Mangoes in Trichy and the reason being the famous mangoes from Thattachiyar Thottam in Trichy. Mango leaves are used to make garland and decorate home in auspicious days. It is also used in Pooja time to dip in pooja water as theertham.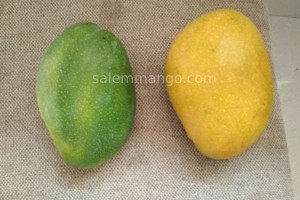 Himayat fruit takes 2 to 3 months to mature and the best time to harvest is around mid of March to June. As the mango matures, it develops a white spot all over it which is a unique characteristics of Imam pasand. Only the matured mangoes are harvested and harvesting is done with care as the mango stem liquid should not spread across as it will spoil the mangoes. Harvested mangoes are packed for customers based on the orders with hay in a carton box and shipped to respective address via our courier partners. Mango will ripe at your place organically and it is advised to cut the mangoes at proper ripe stage (turns completely yellow and soft while pressing gently) which gives more taste.
SPECIAL CARE AFTER RECEIVING MANGOES:
As soon as you receive the box, take out the all the mangoes and put them in open air for 30 mins and then repack them in order of their color, green ones at bottom and yellowish at top, repeat this process daily, these will help mangoes ripening.
Please don't cut the imam pasand mangoes as soon as received. If you cut the mangoes before ripening it will taste sour.
Don't refrigerate the mangoes. Place them in room temperature and avoid keeping it in Air conditioned room as it will not ripe. More the warmth is the temperature mangoes ripe quickly.
After the mangoes are ripen, it is advisable to refrigirate it as this will increase the shelf life.
Before cutting the mangoes wash it with water completely and cut with a hygenic knife. You can eat Imam pasand mangoes along with outer skin as it is very thin.