Description :
Groundnut Oil aso known as Peanut Oil, Wooden Cold Pressed Chekku Oil, Kadalai Ennai in Tamil is prepared from Raw Groundnuts which are dried first followed by removal of shells. The nuts are then crushed in traditional Wooden Chekku prepared from Vaagai tree which absorbs the heat while crushing the groundnut. On completion of crushing, the pure groundnut oil is filtered in a food packing can and the left over Groundnut cake is used to feed Cows.
Important Note :
Usually delivered in 5 - 7 business days. Delivery might be delayed due to restrictions of emergency lockdown. Delivery available in Tamil Nadu and all over India.
Usage & Benefits :
Groundnut Oil is used for cooking, baking, fry purposes. Groundnut oil was regularly used by our grand parents generation which kept them strong. Groundnut Oil is rich in Vitamins and prevents any disease if used regularly in food consumption. Peanut Oil strengthens bones and reduces risk of heart attack.
About Groundnut Oil
Groundnut Oil Specifications:
| | |
| --- | --- |
| Product Name | Pure Groundnut Oil |
| Quantity | 1 Litre / 5 Litres |
| Ingredient Type | Vegetarian |
| Shelf Life | 6 Months |
| Place of Origin | Salem, TamilNadu, India |
| Storage Instructions | Store in Cool & dry places. Don't refrigerate |
| Organic | Yes |
| Preservatives Added | No |
| SKU | GNUTOIL01 |
| Local Names | Groundnut Oil, Peanut Oil, Wooden Chekku GroundnutOil, MaraChekku Oil, Cold Pressed Oil |
| Customer Feedback | View Reviews |
Regional Names of Groundnut Oil:
| | |
| --- | --- |
| Tamil | கடலை எண்ணெய் (Kadalai Ennai) |
| Kannada | ಕಡಲೆಕಾಯಿ ಎಣ್ಣೆ (kadalekai Enne) |
| Telugu | వేరుశెనగ నూనె (Verusenaga nune) |
| Malayalam | നിലക്കടല എണ്ണ (Nilakkatala enna) |
| Hindi | मूँगफली तेल (Mungfali Tel) |
Peanut Oil Preparation:
Groundnut oil is one of the must have oil in your kitchen but it is rarely used nowadays because of the myth that was spread as it will create joint pains etc. That is completely fake and groundnut oil is good for health and the best when compared to refined oils as groundnut oil has rich nutrients and vitamins which are prepared in traditional methods that our grandparents generation have been following for many years before the introduction of refined oils in Indian markets. Salemmango brings you the preparation, production and benefits of Groundnut oil.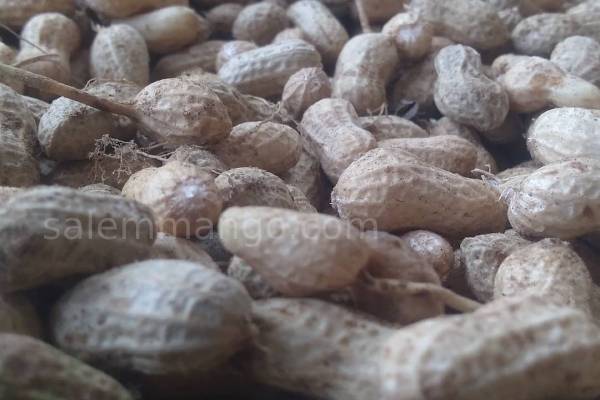 Groundnut is one of the red soil crops which has not been polluted so far with usage of chemicals.
There are two types of groundnut varieties named Kodikkai and kuthukai in which Kodikkai is the most commonly used variety for oil preparation.
Raw groundnut is cultivated from farms which has to be dried for at least 8 to 10 days.
After the raw groundnut is dried it is taken to mills for the outer shells to be removed and only then nuts will be taken back.
Again the peanuts will be dried for 2 to 3 days and only the high quality nuts will be taken for oil grinding.
This step is one of the checkpoint to maintain the quality of oil by taking only high quality nuts leaving out the low grade one.
The nuts will be filled up in wooden cold pressed chekku for grinding which extracts the oil.
This chekku is made up of Vaagai tree which absorbs the heat while grinding and that helps to maintain the nutrients of the oil.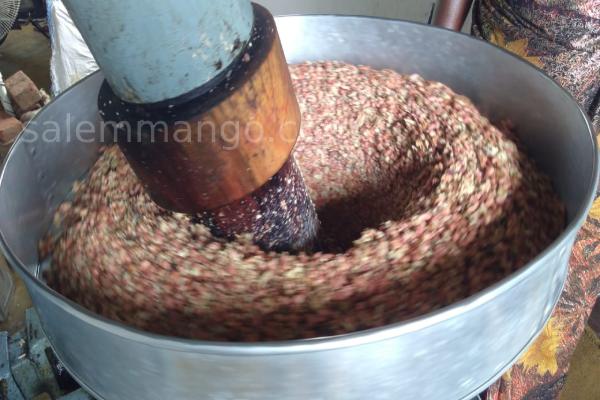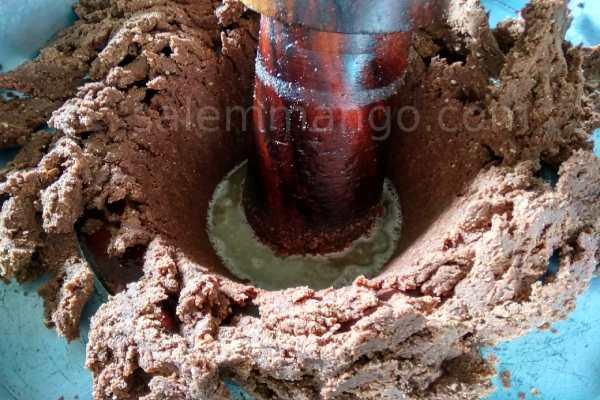 The chekku will be rotated until the oil is extracted from the groundnuts.
In this method it requires 2.5 to 3 kgs of nuts to prepare 1 litre of oil whereas expeller pressed it requires only 2 kgs to prepare the oil.
The left out will be groundnut cakes which is used for organic farming and also used as cattle feed.
The crushed oil will be left untouched for 2 days until the oil and microparticles to be sedimented.
After oil reaches clear state it will be packed up in container bottles without any preservatives being added and available for shipment.
How to know my Groundnut Oil is pure? #5 steps to find:
Nowadays it becomes hard to find the purity of Groundnut Oil. Since the market is flooded with many oils, adulteration becomes a great issue for everyone. We listed you the best ways to find the purity of Groundnut Oil,
Pure Groundnut oil will give the good fragrance smell that canot be matched by any other oils.
Maximum shelf life of Pure Groundnut oil would be around 6 months since no preservatives are added and after that it will produce dull odour.
The Oil will be of golden clour and a bit thicker than other refined oils.
If none of them gives you assurance, you can reach out to elder persons who is the best person to judge since most of them would experience the purity of Groundnut Oil.
Finally we are offering trial packs of oil, by which you can test the purity of oil before making tough decision of buying oil from new brands.