Description :
Pure Coconut Oil locally known as Thengai Ennai is prepared from drying coconut kernel and by cold pressed techniques with wooden machine setup that we have been using from ancient times. The Cold Pressed Coconut oil is packed naturally without undergoing any refine process.
Important Note :
Usually delivered in 5 - 7 business days. Delivery available all over India and fast delivery for metro cities like Chennai, Bangalore, Hyderabad, Mumbai, Delhi, Gurgaon.
About Coconut Oil
Coconut Oil Specifications:
| | |
| --- | --- |
| Product Name | Pure Coconut Oil |
| Quantity | 1 Litre / 5 Litres |
| Ingredient Type | Vegetarian |
| Shelf Life | 6 Months |
| Place of Origin | Salem, TamilNadu, India |
| Storage Instructions | Store in Cool & dry places. Don't refrigerate |
| Organic | Yes |
| Preservatives Added | No |
| SKU | CTOIL01 |
| Local Names | Coconut Oil, Cold Pressed Coconut Oil, Wooden Chekku Oil, MaraChekku Oil |
| Customer Feedback | View Reviews |
Regional Names of Coconut Oil:
| | |
| --- | --- |
| Tamil | தேங்காய் எண்ணெய் (Thengai ennai) |
| Kannada | ತೆಂಗಿನ ಎಣ್ಣೆ (Tengina Enne) |
| Telugu | కొబ్బరి నూనే (Kobbari Nune) |
| Malayalam | വെളിച്ചെണ്ണ (Velichenna) |
| Hindi | नारियल तेल (Naariyal Tel) |
Coconut Oil Preparation:
Salemmango is highly committed in delivering quality food items which are prepared in traditional methods. We follow the traditional process which our parents, grandparents taught us. We bring you the manufacturing process of Pure Coconut Oil as we are the producer, manufacturer, seller of end to end raw materials of preparing Cold Pressed Oil.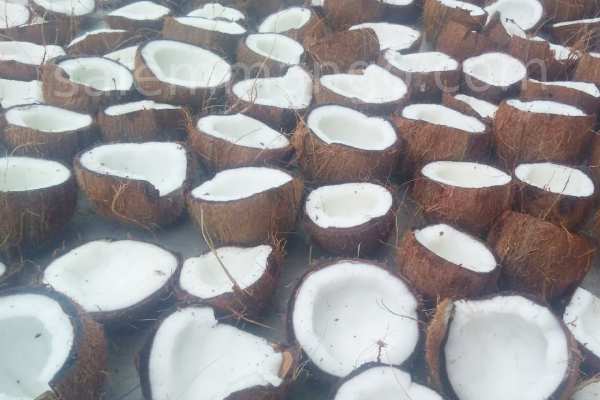 We grow coconut trees in our farms in organic way without using any Chemicals and pesticides.
These trees are native trees which are aged more than 20 years and not hybrid trees.
Matured coconuts are plucked from trees and allowed to dry for few days. Once the coconut is dried, the outer coir will be removed along with outer shell.
The Coconut nuts alone will be taken away from the shell and it will be cut into pieces.
The coconut pieces will be again dried in hot sunlight at least for 5 to 6 days. Once the coconut piece is fully dried it will be taken up to mills for extracting oil.
The coconut pieces will be put up in a traditional wooden chekku which was prepared from Vaagai tree which absorbs heat while spinning.
That keeps the coconut oil very pure without getting heated. Natural ingredients of the oil will be preserved by this technique.
This is one of the main difference between the high end machineries and traditional wooden chekku. The chekku will be rotated until the oil is extracted from the coconut pieces.
The leftover will be the coconut cake which will be used to feed cows and used as organic manure for farm activities.
The crushed oil will be left untouched for 2 days until the oil and microparticles to be sedimented.
Once the oil reached clear state it will be packed up in container bottles.
Once you order the oil will be shipped in carton box to your address.
How to know my Coconut Oil is pure? #5 steps to find:
Nowadays it becomes hard to find the purity of Coconut Oil. Since the market is flooded with many oils, adulteration becomes a great issue for everyone. We listed you the best ways to find the purity of Coconut Oil,
Pure Coconut Oil freezes in winter season whereas adultered or preservative oils don't freeze.
Smell the fragrance of Coconut Oil. Pure one will give you the originality of Coconut smell but the adultered one will have dull odour and won't give the confidence of Coconut fragrance.
Maximum shelf life of Pure Coconut oil would be around 6 months since no preservatives are added.
If none of them gives you assurance, you can reach out to elder persons who is the best person to judge since most of them would experience the purity of Coconut Oil.
Finally we are offering trial packs of oil, by which you can test the purity of oil before making tough decision of buying oil from new brands.