Description :
Pure Buffalo Ghee also known as Eruma Nei strengthens the body and makes you healthy. Buffalo Ghee is prepared using traditional methods by housewives of our village without using any machineries or adulterants. The originality of buffalo ghee will mesmerize anyone. Our Ghee is made with 100% organic butter acquired from grass-fed buffalos on small family farms.
Important Note :
Usually delivered in 5 - 7 business days. Delivery available all over India and fast delivery for metro cities like Chennai, Bangalore, Hyderabad, Mumbai, Delhi, Gurgaon.
Usage & Benefits :
Ghee include its ability to increase equity and glow of epidertmis, normalizes kapha and vata, provide additional energy and increase body immune system. Ghee can be used to toast bread, prepare ghee dosa, feed children to increase immunity powder and it removes bad cholestrol from human body.
How We Differ From Others :
Unlike other ghees in market, our's is prepared using traditional hand churning methods from Yogurt. These are grass fed buffaloes of native Indian breed which have been for more than 1000 years. It is prepared and packed directly from farmers and hence cuts any middleman intervention or adulteration.
About Buffalo Ghee
Buffalo Ghee Specifications:
| | |
| --- | --- |
| Product Name | Pure Buffalo Ghee |
| Quantity | 500ml / 1Litre |
| Ingredient Type | Vegetarian |
| Shelf Life | 6 Months |
| Place of Origin | Salem, TamilNadu, India |
| Storage Instructions | Store in dry & cool places. Don't refrigerate |
| Organic | Yes |
| Preservatives Added | No |
| SKU | GHEE02 |
| Regional Names | Buffalo Ghee, Bilona Ghee, Pure Desi Buffalo Ghee |
| Customer Feedback | View Reviews |
Regional Names of Buffalo Ghee:
| | |
| --- | --- |
| Tamil | எருமை நெய் (Erumai Nei) |
| Kannada | ಎಮ್ಮೆ ತುಪ್ಪ (Emme Tuppa) |
| Telugu | గేదె నెయ్యి (Gede Neyyi) |
| Malayalam | എരുമ നെയ്യ് (Eruma Neyy) |
| Hindi | भैंस घी (Bhains Ghee) |
Buffalo Ghee Preparation:
Buying pure buffalo ghee in the market is a great challenge for anyone because mostly cow ghee is sold in the name of Buffalo ghee. Because buffaloes are very less in number the preparation of Buffalo ghee cannot be done in mass volume. Salemmango brings you the original buffalo ghee along with the preparation steps listed below.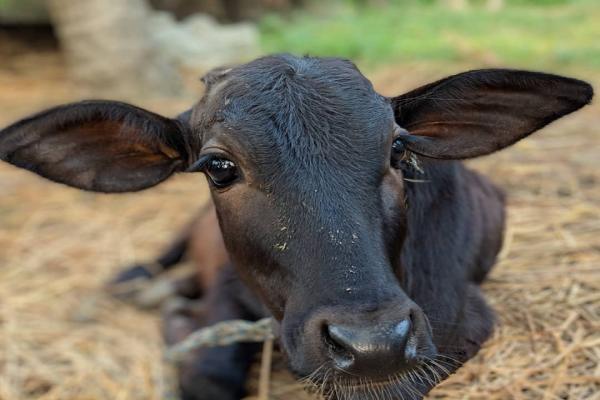 Native Indian buffalo breeds are the one that has not yet been genetically modified unlike native Indian cows which are crossed with jersey breeds.
Buffalo milk and any by-products from buffalo milk are very healthy which has high fat compared to cow's milk.
Our buffaloes are native Indian breeds that are in existence since stoned ages and these are grass fed living in natural ecosystem.
Buffaloes can produce a maximum of 1 to 2 litres at a time but the milk is very thick.
The obtained milk will be boiled and after cooling little amount of curd is mixed with it. After 12 hours the milk will be converted to curd which undergoes for ghee preparation.
The curd will be poured in a vessel and a traditional wood churn stick will be placed in between which will be rotated in clockwise and anticlockwise direction.
This process continues until the butter is separated from the buttermilk.
The butter will be taken out and the remaining buttermilk goes for preparing organic pesticides like Panchakavya.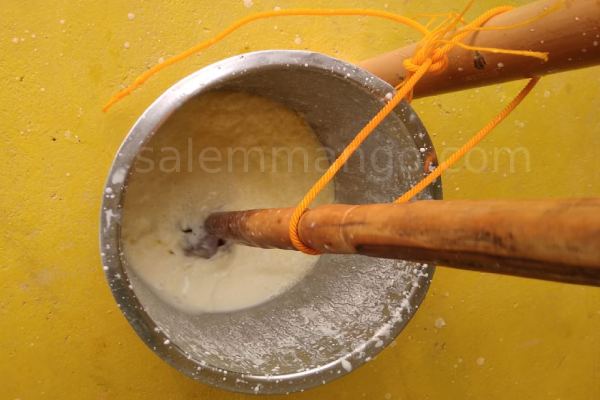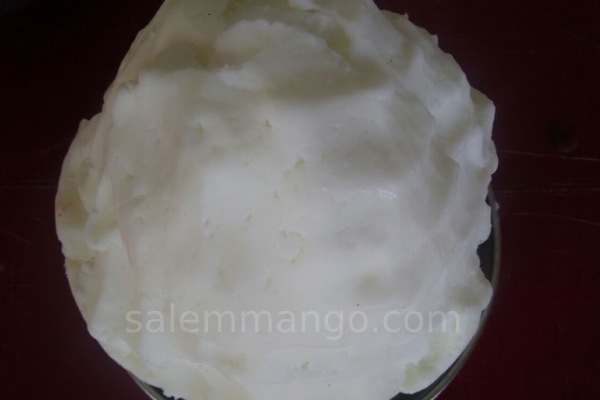 This wood churning method is also called as bilona ghee process and the word bilona is coined from a city named Bilona in Rajasthan where this ghee preparation is a common practice.
The obtained butter will be poured in a vessel for heating and the butter will be heated until the microparticles get sedimented which brings out the Pure Buffalo ghee.
After cooling the ghee is packed in a container bottles without adding any preservatives which is available for shipment.
Our ghee is completely safe for kids as it is prepared in natural way and we guarantee kids will enjoy it like Krishna from Mahabharatham does.
How can I use this Buffalo Ghee?
Though many of us know the usage of ghee, we have listed down the places where it is mostly used and how healthy it could be.
Buffalo Ghee is advisable to give for children who is very weak, since ghee has high fat it helps to strengthen them.
Buffalo Ghee is used to prepare Panner, Cheese and also used to prepare homemade sweets.
It's a culture to mix ghee with food especially Sambhar, Rice which adds more tatse.