Description :
Salem Gundu mango preferrably called as Alphonso mango is rich in sweetness & flavour, with juicy pulp inside. The mango looks green in raw conditions and turns completely yellow on ripening. Alphonso mangoes are small round shaped and can be eaten directly with one hand. Alphonso is the largely exported variety of mangoes compared to other mango varieties.
Important Note :
The mangoes will be sent in raw matured, semi ripe condition to avoid damage in transit. While ripening it will loose 100-200gms of weight per kg.
Usually delivered in 5 - 8 business days. Delivery might be delayed due to restrictions of emergency lockdown. Delivery available in Tamil Nadu and all over India.
How We Differ From Others :
We cultivate mangoes by ancient methodologies using organic manure. Mangoes will be plucked from trees once we receive the order and packed with hay for ripening process. It is packed directly by farmers, avoiding chemical process and middleman intervention
About Alphonso Mango
Alphonso Mango Specifications:
| | |
| --- | --- |
| Product Name | Alphonso Mango |
| Quantity | 1kg / 3kgs / 5kgs |
| Shelf Life | 1-3 days after ripening |
| Place of Origin | Salem, TamilNadu, India |
| Storage Instructions | Store in a cool & dry place. Don't refrigerate before ripening |
| Organic | Yes |
| Ripening Process | Natural |
| SKU | ALP01 |
| Local Names | Salem Gundu, Hafoos, Hapus, Badami |
| Ripening Guidelines | Keep the mangoes inside hay with boxes closed tightly. It will ripen gradually in 2-5 days |
| Customer Feedback | View Reviews |
Regional Names of Alphonso Mango:
| | |
| --- | --- |
| Tamil | சேலம் குண்டு (Salem Gundu) |
| Hindi | हापुस आम (Hafoos Aam) |
Alphonso Mango Orchard:
Nowadays it's hard to find naturally ripened farm fresh mangoes unless one has own mango farms or pluck the mangoes directly from trees by any means. Normally mangoes sold by a farmer crosses different level of agents and reaches the consumer. It is being stored and applied ripening techniques to reach consumer's hands. We at Salemmango eliminates all these middle level storages and give you the farm produce directly and the steps are explained below,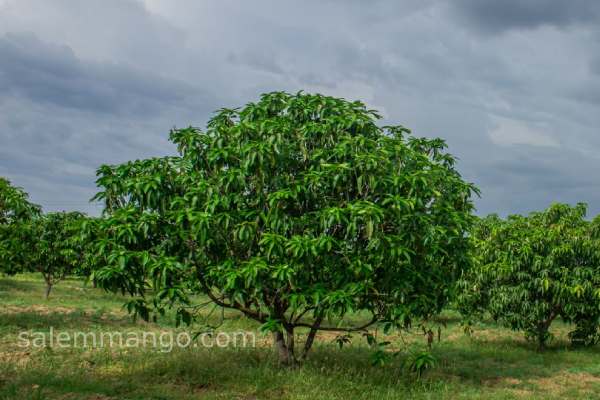 Alphonso mango saplings are planted in traditional way of keeping 25 feet distance across each of the tree. Red soil & Alluvial soil are the best suited for mango cultivation.
Alphonso saplings normally take 3 to 4 years to start flowering and to bear the fruits. The trees has to be pruned properly so that sunlight falls on the stem.
During the flowering blossom season there will be around 1000 flowers produced in the tree, out of which only 10 to 20 buds remain in the tree and converted to fruits.
The mango trees has to be watered regularly once in a week for the fruits to mature.
When the mangoes are ready for harversting, we pluck only the matured mangoes because the matured one alone can ripe naturally.
Matured Alphonso mangoes can be identified by the mangoes which has inward circle cavity near the stem, big enough and sometimes turns pinkish yellow.
The stem of Alphonso mangoes are cut after havest and the mangoes are laid bottom to top for atleast half an hour until the milky liquid in the mango dries out.
The mangoes are then packed directly in hay box and shipped to respective address which avoids any kind of storage or middleman intervention.
The only person to touch the mangoes until packing will be a farmer which guarentees the mango authenticity and organic taste.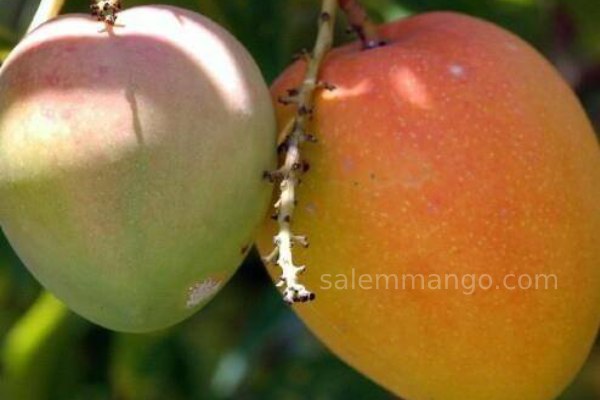 #5 Steps to ripe alphonso mangoes naturally:
Salemmango ensures the mangoes are ripened naturally without applying any artificial techniques. We ship the semi ripe and matured raw green mangoes and by following the below steps it will ripe naturally at your place infront of your eyes.
After receiving the order, open the mango box gently and leave it open for 2 to 3 hours for the air to circulate inside as the mangoes have travelled a lot of distance under various temperatures.
Now close the box tightly by covering the mangoes with hay that was supplied along with the order.
Keep the box away from sunlight and if possible place it in a dark place. Please donot keep it in air conditioned rooms as it won't ripe in cool climates.
Mangoes ripe quickly in hot climates and slow in chill climates. Open the box once in a day to check ripen mangoes and leave the box closed until all the mangoes are ripen.
Ripening can be quicken by placing the mangoes inside rice bag or placing a fully ripened mango fruit inside the box along with other mangoes.
How to find the alphonoso mangoes are ripen?:
The alphonso mangoes will ripe one by one and ripening duration will vary from 2 to 5 days. The ripen mangoes look with a combination of green and deep yellowish color. A fully ripened alphonso mango turns completely yellow and produce a strong aroma.
Sometimes all the mangoes won't turn yellow and color of mangoes are not always the best indicator of fruit stage. It's a best way to gently squeeze the mango. If the mango is hard on squeezing it is not ready for consumption. Don't press too hard as it will damage the pulp inside and will be spoiled after ripening.