Why brown rice is good for health?
2 mins read
Last updated : 21-09-2023
Brown rice (Hand pounded rice) is a complete grain just outer portion hull is removed by pounding.
Hand pounded brown rice has 4 times the mineral magnesium compared to white polished rice, which is very important for your healthy strong bones and teeth. Helps regulate the blood glucose levels and blood pressure.
The rice has its all parts which are fibrous bran, the nutritious germ, and the carb-rich endosperm.
Bran contains antioxidants, B vitamins, and fiber.
Germ contains B vitamins, protein, minerals, and healthy fats.
And Endosperm has carbohydrate, protein and very few vitamins and minerals.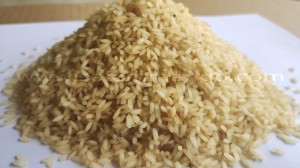 Consuming brown rice in diet your body gets fiber and B vitamins, folate, potassium and protein than white rice.
Brown rice is undoubtedly one of the healthiest grains. Loved by all age's people. Brown rice is an excellent source of magnesium. A cup of brown rice has been found to fulfill an individual daily need of magnesium. Studies suggests regular consumption of brown rice (Hand pounded rice) reduces the risk of Type 2 diabetes. Brown rice is lower on the glycemic index.
Brown rice for babies
Good for development of your baby.
The best food to be given to babies having constipation.
One cup of brown rice will nearly sufficient for daily nutrient requirements.
Brown rice keeps you younger and fresher.
Fertility chances increases by having regular intake.
Fiber rich brown rice keeps you fuel for longer time hence food intake gets reduced so weight gain reduced.
Fast wound healing,
Facts brown rice vs White Rice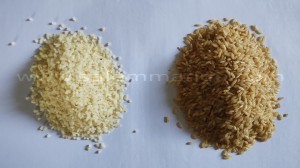 Brown rice is naturally a safe choice for those who want to intake gluten free diets. Highly packed with beneficial nutrients in brown rice which our body needs to function properly. Whole grain brown rice has a large amount of manganese very important for our body.
Major bone development, muscle contraction, functioning of the nervous system.
So, replace white rice for brown rice and gain the health benefits.