Ganesh Chaturthi Offers from Salemmango
2 mins read
Last updated : 08-09-2023
Vinayak Chaturthi popluarly knowns as Ganesh Chaturthi or Ganeshotsav is famous hindu festival celerabrate acrss the nation India. Although the festival is celebrated in all states but Maharashtra is unparalleled in unique style of big mass celebrations occurs.the festival starts with clay idols of Lord ganpathi are keep in temporary structures and Pooja special worship ceremony is performed for 10 days, offerings of sweets, flowers, rice, coconut, jaggery, and coins are made, and the statue is anointed with sandal wood powder. On the 11th days these lord idols are immersed in water belief that the universe is in a constant state of change, and eventually gives away to formlessness. This shows circle of Life. The Lord gangesha devotees chant of Ganpati Bappa Morya hits sky like thunder.
South Indian celebrations of ganesh festival.
In southern India mostly celebrate in 3 days. On the special birthday of Lord Ganapathi We make charkarai Pongal and sundal for Lord Vinayaga.Special pooja for decorated lord vinayaka clay idol are performed and majority of temples and places are sung with pilaypati vinayagar songs through out the festivals in every streets.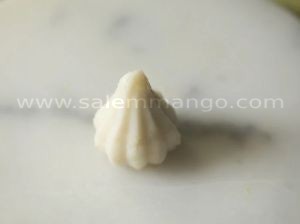 How to make Modak/Kolukattai quickly at home
Modak /Modakam, also referred to as Kolukattai in Tamil is the popular sweet and favourite sweet of vinayak mahadeva. There are many types of Modak. But the most famous Maharashtrian modak is the steamed Modak also known as Ukadiche Modak that is made from rice flour and stuffed with a sweet filling of coconut and jaggery. Preparing modak recipe does require time and effort. It is good if you have the modak moulds makes easier. Incase if you are beginners you can make the half-moon shape for modak or buy the moulds. The coconut-jaggery stuffing and rice dough are made initially. Then, portions of the rice dough are shaped in a ball, flattened and filled with the stuffing.
Dry Fruit Modak
Dry Fruit Modak is a variation to the classic steamed modak. These are sweet steamed dumplings made from rice flour dough and filled with a mixture of assorted dry fruits, nuts, khoya (evaporated milk solids), poppy seeds and coconut.
From salemmango happy Ganesh Chaturthi to all Shop for Ganesh Chaturthi deals & discounts online at best prices from farmers.